Welcome to the PeakForest collaborative portal and spectral databases Hub for Metabolomics community.
PeakForest is a project funded by MetaboHUB and INRAE.
PeakForest framework
PeakForest Demo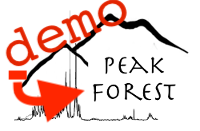 Interested by the PeakForest project? Please visit our demo instance and don't hesitate to ask a account to test more advanced functionalities (user or curator).
Citing the PeakForest project
1. Paulhe, N., Canlet, C., Damont, A. et al. PeakForest: a multi-platform digital infrastructure for interoperable metabolite spectral data and metadata management. Metabolomics 18, 40 (2022). https://doi.org/10.1007/s11306-022-01899-3